Crt. El Pedroso - Cazalla, km. 43,5
Cazalla de la Sierra

Bed and Breakfast
Casa Rural superior
Telephone:
Mobile:
Email:
Website:
954 88 47 64
954 88 45 94
send a message
www.lasnavezuelas.com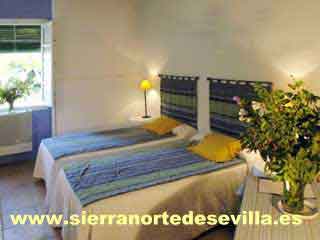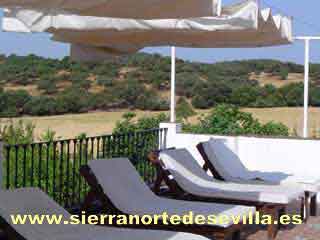 Just as the plains of Seville begin to rise up to the Sierra Morena, you will find a special eco habitat where the hand of man has done nothing but follow the natural evolution of the land.

Las Navezuelas lies in this protected area, the "Parque Natural Sierra Norte de Sevilla", recently declared a Biosphere Reserve by the UNESCO and covering more than a hundred hectares of picturesque traditional farmland, full of olive groves and oak trees and grazing animals. Las Navezuelas is only 3 km from the pretty village of Cazalla de la Sierra, where history and the traditional ways have been protected and preserved. The farmhouse courtyard, with its seventeenth century oil mill gives you a chance to discover a little known part of Spain, the Sierra Norte of Seville.

Las Navezuelas lies within easy driving distance of Seville (1 hour), Cordoba (1,5 hours) and the beautiful beaches of Huelva and Cadiz (2 hours). Day trips to any of these are easily made, returning as evening falls to spend the night in the warm and tranquil setting of the farmhouse.

A wide choice of accommodation is available: double and twin rooms with en suite bathrooms; spacious self-contained 1, 2 or 3 bedroom apartments, all with kitchens and living spaces and independent entrances. A beautiful swimming pool and various outdoor garden seating areas for socializing, reading and general relaxation complete the perfect picture.

The restaurant, with views over the orchard, offers exquisite local cuisine made with in-house farm produce.

You can participate in local artists' workshops, outdoor activities such as bird watching, pony trekking and walking along the ancient sheep trails, all in delightful and enchanting surroundings.

Those seeking to relax in the peace and calm of our hilly countryside will surely enjoy the welcoming gentleness and friendliness of the people of the South at Las Navezuelas.


Rates
Las Navezuelas has a wide choice of accommodation available:
double and twin rooms with en suite bathrooms,
spacious self-contained 1, 2 or 3 bedroom apartments.
Please contact us, we will inform you about availability and price for your stay at Las Navezuelas.
request for reservation or more information
how to get there